From 5 hours to 6 am today (19/2) of snow fell in the mountains white Sapa town and the surrounding areas for a period of 1 hour. Adjectives snowfall mid September 12/2013 history, this is the 3rd consecutive session snowfall in sapa
The information is provided by the center director Hydrometeorological Forecast Lao Cai Luu Minh Hai. According to engineer Hai, the impact of a new round of cold air should strengthen 18/2 night, dawn on 19/2, Lao Cai province small and freezing rain occurs, the temperature decrease, in Sa Pa district which is only 1 degree Celsius is forecast for tonight and tomorrow the temperature in Lao Cai will continue lower, the snow is likely to continue to expand.
Nguyen Phuc Thanh, Mountain Ranger Station chiefs RIPS (Hoang Lien National Park, Sa Pa), said snow was falling from the high mountain pass area O Quy Ho point (about 2,000m) spreading to the junction of State Waterworks (Sa Pa town, about 1,600m).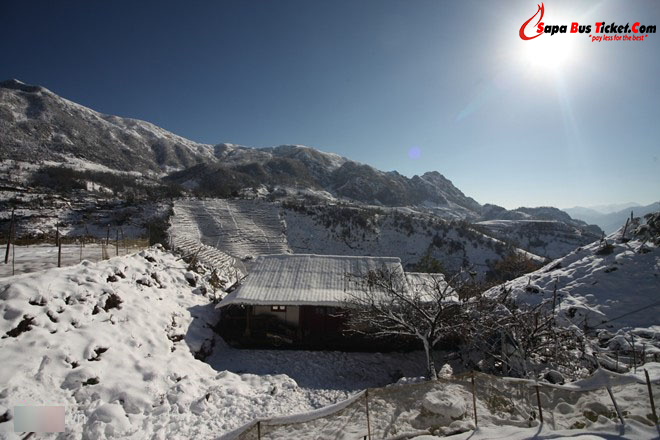 Snowfall only way Sapa town 3-4 km. Show more reliable snow and was covered with a layer of 3-5 cm on the ground surface either side of national highway 4D Sapa - Lai Chau.
According Prediction Center Hydrometeorological Central, in day and night 19-2, northwest of the sun cold weather damage, the lowest temperature of 8-11 ° C, in some places below 6 ° C; highest temperature 13-16 degrees C. The low temperature northeast of 7-10 degrees Celsius below 5 degrees Celsius mountains, the highest temperature is only 11-14 degrees C. High mountains with frost and snow .
From Thanh Hoa to Thua Thien Hue province, north of heaven and cold weather damage, the lowest temperature of 8-11 degrees Celsius, 12-15 degrees Celsius southern Hanoi northeast wind at level 3. The lowest temperature of 8 -11 degrees Celsius, the highest temperature 11-14 degrees C. God only cold weather damage.
Adjectives snowfall mid September 12/2013 history, this is the 3rd consecutive session snowfall in sapa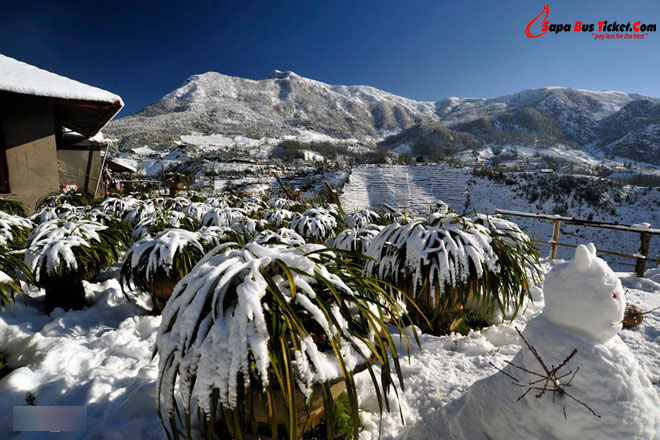 Snowfall in sapa has attracted more sapa tour to visit and create unique tourism products to discover Sapa tropical snow. Admire the snowy image of sleet sapa recent history: